About us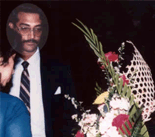 We are a group of technocrats in agriculture/ horticulture,Coimbatore,India and we deal exclusively with flowers / foliage plants, horticulture projects etc. Our Director (Technical) Dr. K.Valliappan, M.Sc (Agri), Ph.D has over 23 years of experience. BIODATA
With our rich experience in flowers and foliages (both in growing and with our specific contact with growers of different flowers and foliages in many locations in the country), we can deliver a wide range of flowers, an unique feature which is difficult to be matched by any other Indian web site, exclusively dedicated to flower deliveries.
Having been delivering flower arrangements all over India, ever since the Internet revolution, we have turned the same strong physical network, in over 180 places in India, at cities, towns and even, villages, into a virtual network as well. If you have a special occasion or special flowers in mind to gift to someone special (CUSTOM ARRANGEMENT), or if the place you wish to send a flower arrangement is not in our currentlist (UNLISTEDPLACES),
Please give us an email to drvalliappan@hotmail.com and we will fulfil your wish.